The Wolf Pack Classroom Management Plan
The Wolf Pack Classroom Management Plan is a thematic classroom management system that uses research-based practices to help all children learn prosocial behaviors like empathy, personal responsibility, and caring about one another.
Research has proven that children who lack prosocial behaviors and who exhibit challenging behaviors, especially those identified with an Emotional and Behavioral Disorder, are the least successful in academics and in life. They are the students with the lowest grades, the lowest graduation rates, and the biggest risk for adult unemployment. All these factors contribute to adult anxiety, depression, and the risk of suicide.
When Jan began teaching young children she noticed that many of her students were struggling with anxiety, depression or anger issues. These issues became the basis for behavioral and academic problems at school.
Jan created a nurturing classroom community, using research-based practices for prosocial behavior and based on the social habits of wolves. The Wolf Pack Classroom Management Plan, Winner of the Ben Franklin Award for Best Education Book, creatively blends best educational practices into a nurturing and fun classroom program where students are supported, and support each other. The WPCMP has strategies and ideas to encourage all students, calm anxiety, depression and anger in students, and is a way to reduce bullying and negative behaviors in the classroom.
What is the

Wolf Pack Plan?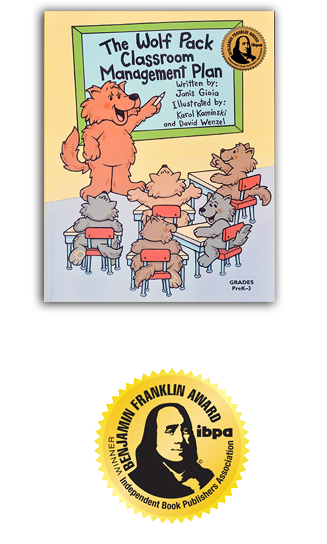 About The Wolf Pack Classroom Management Plan
The emotions your students bring to school affect your classroom. Even when students aren't acting out, anger, anxiety and sadness, as well as many other emotions, play a big role in what your students learn and your effectiveness as a teacher.
Think about it?
A child angry about being teased on the school bus is not going to come into your classroom ready to learn.
A child afraid of being bullied at recess is probably not paying attention to a math lesson at 11:30 am.
A child, upset and losing sleep over his parent's divorce, is not motivated to make a bar graph on his classmates' favorite foods.
Unmet social and emotional needs affect your teaching and the ability of your students to succeed.
What can you do about it?
Use the Wolf Pack Classroom Management Plan. This innovative plan for Pre-K - 3rd grade teachers, was developed with and uses research-based practices to:
Meet the social and emotional needs of children.
Encourage prosocial behaviors in a cooperative classroom community
Create a nurturing, fun classroom environment based on the social habits of wolves.
Promote a caring environment that helps children relax, learn and succeed
Look Inside the

Wolf Pack Plan
Introduction:
Rationale for the Wolf Pack Classroom
Where Do You Begin?
Easy to implement strategies to start your school year the Wolf Pack Classroom way.
Elements & Routines:
Creative Ways to Use the Wolf Pack Theme seamlessly throughout your school day, from small group learning to behavior monitoring.
Meeting the Needs:
How to support every child, all the time.
Activities & Plans:
Easy to implement activities, games and lesson plans.
Reproducibles:
Wolf-themed patterns, awards certificates, letters and questionnaires.
The Wolf Pack Classroom Management Plan

Endorsements
Having observed The Wolf Pack Classroom Management Plan in Janis Gioia's classroom, I can vouch for the validity, usefulness and practicality of the program. The Wolf Pack Classroom Management Plan is written in a clear, concise style. The concept of the plan is easily understood. The good advice on how to begin and continue the program is practical and valuable. There is enough structure to provide guidance and enough flexibility to allow each teacher to adapt the program to his/her own style.




Rosemary Kosak Gulick
Parma City School District (Retired)
Teacher (29 years) Administrator (11 Years)
Director of Curriculum and Instruction
Ohio Teacher of the Year
Parma City School District School Board Member
Author of Read-A-Rhyme activity series published by Creative Teaching Press
The Wolf Pack Classroom Management Plan is a fun, creative, unique technique. It has many well-developed, thorough ideas that young children will respond to positively. The lesson plans and reproducibles are great resources.




Gail T. Eichman, PhD
Assistant Professor of Education
Baldwin-Wallace College
Berea, Ohio
As a principal of a K-3 school, one of my major responsibilities is to make sure that my staff is creating a positive, collaborative and safe environment for the students. The Wolf Pack Classroom Management Plan enables the practitioner to do exactly that. From the beginning of the book through its great reproducibles, it offers a concise and creative way to enhance any classroom environment.




Eva O'Mara
Principal
Highland Drive Elementary
Brecksville, OH
The Wolf Pack Classroom Management Plan is a very clever and cute way to use classroom organization techniques and strategies. The book includes useful materials that can be used throughout the year in your classroom. My students loved the wolf characters included in this book.




Jacqueline M. Pepe
Beachwood, New Jersey
First grade teacher
H.C. Johnson School – Jackson, New Jersey
I really enjoyed this book and found it to be one of the best classroom resources for managing behavior that I have ever seen! I really liked the theme of teamwork and I think the wolf incentives in the back are helpful. Also, as a recent student teacher I would recommend this to any new teachers.




Hayley Weiss
Allen Park, Michigan
Pre-Kindergarten Teacher
Artstart Preschool and Kindergarten
As a building administrator, I find The Wolf Pack Classroom Management Plan has some positive and unique characteristics. The program combines many of the strongest classroom management techniques, such as cooperative learning, positive reinforcement, and time out in a unique plan. Using the wolf pack idea makes the plan unique in that it takes a template from nature and adapts it into the classroom. The teacher could implement the wolf pack idea as narrowly as possible or enhance it as broadly as possible by studying wolves and their habitats in depth. Introducing the plan before the school year begins leads to building good communications with parents and students and encourages excitement and interest in the upcoming year. The Wolf Pack Classroom Management Plan would be simple to implement for a teacher at any experience level and fun to work with.




Cheryl Kammerzell
Colfax, Washington
Principal – Steptoe School – Steptoe, Washington
I love the cartoon and realistic wolf reproducibles the WPCMP provides. The activities and lesson plans showed that this management plan can be instituted quickly and easily – an important piece for busy teachers! Best of all, this management plan includes all children all of the time. As an educator and mother, I appreciate that.




Dawn Katona
Parma, Ohio
First Grade Teacher
Emerson Elementary - Lakewood, OH
The Wolf Pack Classroom Management Plan gives a child a sense of ownership and a sense of responsibility. Its activities help give a child positive self-esteem and it helps them become more of a team member. It is very good for cooperative learning. The wolf theme really gives the child ownership. What a wonderful idea!




Cathy A. Cochran
Richmond, Indiana
Kindergarten Teacher
Seton Catholic School – Richmond, Indiana
The Wolf Pack Classroom Management Plan is filled with helpful guidance for present and future educators. The information provided is not only educational inside the classroom, but outside as well. The relationship between the wolf pack's journey and the voyage to successful classroom management is inspirational.




Mimi Vitello
Elementary Education Student
Youngstown, Ohio
I feel it is very important for our children to feel safe, secure and accepted, and at the same time that they work together toward common goals in learning and behavior. I feel that all of the ideas, lessons and reproducibles are great. I loved the book and I would recommend all teachers use The Wolf Pack Classroom Management Plan!




Carlette Duray
North Royalton, Ohio
4-5 Year Olds Teacher
Stages Child Care Center – Brunswick, Ohio
About the Author

Janis Gioia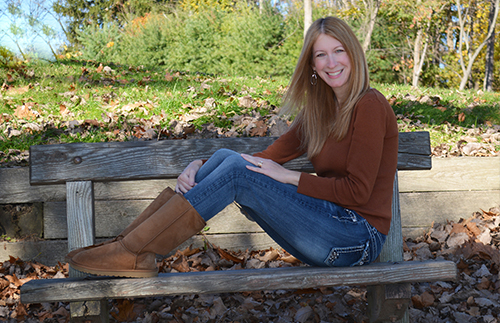 About the Author
Jan was born with a writer's soul and loves using words to make a difference in people's lives.
With experience teaching in an urban school district, a social service setting, and as a tutor, Jan has taught students from preschool to graduate school. Jan enjoys helping students develop their strengths while reducing anxiety and creating a calm, peaceful learning environment.
Jan has a Master's degree in special education and combines her skills as a teacher and a writer to help clients, especially nonprofits, who focus on helping people with disabilities and special needs.
Jan is the creator of Comforting Anxious Children, a website dedicated to bringing Peace to Children...Mind, Body and Spirit.
Jan lives in Ohio with her husband, their children and their three dogs.